Tommy is an award winning actor and campaigner. He was the first actor with Down syndrome to play the lead in a primetime TV drama, the BAFTA Nominated Coming Down the Mountain for BBC1 and the first actor with Down syndrome to play Hamlet in professional theatres.
Tommy was selected by BAFTA for their prestigious BAFTA Elevate Scheme and is now a full voting member of BAFTA.
He hit the headlines with a dramatic role as Terry Boyle in Series 5 and 6 of Line of Duty BBC1
Tommy has filmed cameo roles in several feature films, played lead roles and won BEST ACTOR awards in award-winning short films and enjoyed significant roles on television, radio and stage.
Tommy has recently discovered a love of public speaking and was a keynote speaker as Ambassador to the National Down Syndrome Policy Group at events in The House of Lords and as arranged by the Embassy of the USA in London to celebrate the passing of the Down syndrome Bill through the UK Parliament.
Tommy is Ambassador for Mencap, Ambassador for the National Down syndrome Policy Group, co-founder Blue Apple theatre and Patron of the Portsmouth Down syndrome Association.

Watch his showreel here.
Tommy's first major break came when he was cast in Mark Haddon's award-winning feature-length BBC1 drama Coming Down the Mountain. starring opposite Nicholas Hoult. Tommy was the first actor with Down syndrome to play a lead in a primetime TV drama.
'I found Jessop absolutely riveting, utterly charming, a remarkable performance'  Saturday Review BBC Radio 4.
Tommy's film work includes lead roles in award-winning short films: Playing a boxer, a murderer, a fisherman, a football fan and winning several personal BEST ACTOR Awards for Fighter and Down & Out and BEST ACTOR plus an HONOURABLE MENTION for Innocence.
'Intense and markedly compelling' UK Film Review
He also filmed cameo roles in The Damned United and Day of the Flowers.
On Television Tommy has enjoyed guest or guest lead roles in great TV story lines in 4 episodes of Line of Duty (series 5 and 6), Casualty, Holby City, Monroe, Doctors, and been featured in several documentaries.
On stage Tommy became the first professional actor with Down syndrome to play the title role Hamlet, touring across the south of England from The Minack Theatre in Cornwall to The Rose Theatre in Kingston on Thames. Sir Mark Rylance described his delivery of Hamlet's 'To be ' speech as "phenomenal". 'Held me spellbound' Stuart Mills.
Other Shakespearean and classical roles have included Prospero in The Tempest, Don Pedro in Much Ado About Nothing, Bottom in A Midsummer Night's Dream, The Mayor in Gogol's The Government Inspector, Vladimir in Waiting For Godot and M.Paillardin in an adaptation of Feydeau's The Hotel du Paradis.
Tommy also enjoyed a scratch comedy improvisation with Sally Phillips at the Orange Tree Theatre in Richmond.
On BBC Radio 4 Tommy has played lead and guest lead roles in the Afternoon Plays including an episode of  Stone with Hugo Speer. He played the lead in The Climb  opposite Warwick Davies, and had a cameo role in The Archers.
As Hamlet he was featured in Will Jessop's feature length BBC documentary Growing Up Downs which was nominated for an International EMMY: BEST DOCUMENTARY and won the TV CREATIVE DIVERSITY AWARD for Most Ground-Breaking Programme.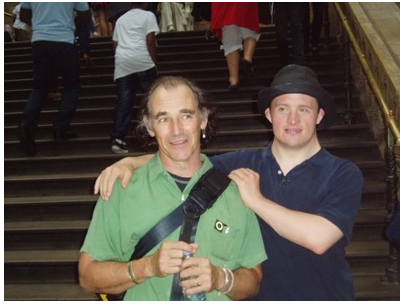 Tommy worked with Sir Mark Rylance and the Globe Theatre performing in What You Will: Pop-Up Shakespeare in 2012 and continuing to perform in their Sonnet Walks  in 2013 and 2014. Working with Blue Apple Theatre, Tommy played key roles in plays and films tackling social issues which were commissioned by the health service and the Home Office. The plays toured England and one, Living without Fear, performed in Parliament.
Tommy is now also exploring his love of improvised dance and has performed in venues around London.
He recently enjoyed a short dance residency at the Royal Opera House with Culture Device.
Tommy has been leading a 21 hour DanceAthon celebrating the lives of people with Down syndrome on World Down Syndrome Day, 21st March each year.
See Tommy's showreel here and Gallery for screen shots and images from his performances